Cormac Ó Conaire Design Partners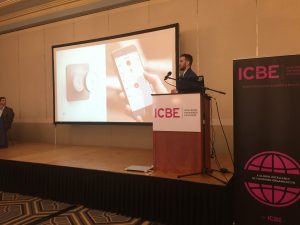 Cormac showcased some of the variety of designs created by the Design Partners' team and their clients including world-leading products and apps from Panasonic, Google, Logitech, Silvair and S3Connected Health.
All of these projects posed different challenges, for instance, when designing a 'simple' headset for a mass audience the design team must consider complex ergonomic details, anthropometrics and mechanical engineering because everyone heads are different. His team aims to resolve those complexities, in collaboration with their clients, in a beautifully clean experience for the end users. Cormac also pointed out that an understanding of optimising workflows is crucial when designing digital products to make them look, feel and function better. The products shown had a highly advanced technology behind them, however Cormac stressed that technology is simply an enabler to create meaningful experiences for people, and that it is important to focus less on the technology and more on the experiences it can create.
Cormac also discussed that Irish companies have an opportunity to utilise design as a competitive edge, pointing out that, according to the Design Management Index, companies that embrace design are outperforming others by a large factor. This is also reflected in a Gartner report that records that 89% of competitive advantage is based on customer experience, and not a technological breakthrough or innovation.
Design can often be seen as a cosmetic layer applied but the earlier it is embedded in the new product development process the more impact it can have. New product development is not just about innovation and needs to be thought about holistically. Cormac pointed out how design can bring differentiation, create happier customers and mitigate risk when launching new products, through market analsysis, human-centred design and user testing, respectfully.
Pointing to the power of good design Cormac added creating something beautiful is more than aesthetics and can have a profound impact on people and how they feel.
Design begins with two fundamental questions: Do you know your customers and what do you stand for? The intersection of what your customer is seeking and what you stand for should guide every part of the design experience.
In understanding your customers you need to ask have you spent time with them in their space.
The design process also needs to understand 'what you stand for' and not just important for leadership. It must reflect values that can be articulated authentically.
Cormac illustrated these points in work Design Partner did for Logitech G, who decided to refocus on the video gaming space from a position of decline and knew they had to invest in reinventing themselves through design.
Design Partners spent time studying the gaming community which revealed the high stakes nature of gaming (one competition has a prize fund of 17 million). Gamers also employed performance coaches worried about lag in the gamers performance due to poor peripherals. They were not looking for a toy to play with, they were looking for tools to win with.  Prior to this Logitech were targeting an older audience. They also studied what Logitech stood for This discovery journey led to a new process including the use of high speed cameras to capture rapid hand movements and demonstrated the rigour that needs to be applied to really understanding the customer and delivering high performance products to them. This collaboration was a huge success for Logitech, who have multiple products as the best selling in the world, with a consistent growth in business.
Cormac finished his talk emphasising the equation for success in new product development being:
Who are your customers + What do you stand for = Reflected in all touch points in the customer experience.