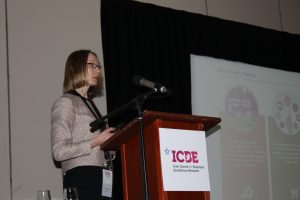 Catherine Neilson – Kerry Foods, Director of Strategy.
Engaging the business in driving growth through storytelling
With an ever expanding set of products and with a wide geographically spread Kerry turned to a core story telling strategy to engage employees and harness the passion of the management team.
"Simply telling was not enough so we took a story telling approach which could generate an emotional connection.  A rational approach would not have touched hearts and minds.  Powerpoint would not achieve what we wanted – you would be telling them and not engaging.  Developing the values was an important starting point and the story telling was co-created with the management team." commented speaker Catherine Neilson, Kerry Foods journey.
Although the story telling was manifested in many forms from posters, images, LinkedIn, commercial media and on site, one of the biggest forms was a mini highly visual animated film that communicated the values while capturing the essence of the business.  The film featured food and ingredients as the heroes with cheese gorges to butter rivers.
Some of the comments that the story telling 'Delivered the most clarity on what makes us distinctive' showed the power of the approach.
The programme was launched with 120 of their leaders, many who started off sceptical only to openly share stories of fear to excitement which all added to the authenticity.  In order to spread the campaign through the organisation they created toolkits to help senior management communicate it to all 6500 employees, who had equal opportunity to connect and tell one of their stories.  Catherine captured the power of this in a story of one shop floor employee who revealed  she learnt to read through a Kerry Foods programme and was finally able to read a story to her grandchildren.
"Many of these stories would not have been told if this approach not been developed and we have translated them into 6 languages." said Catherine.
Catherine also described the steps they have taken to keeping the initiative alive within the organisation which includes:
'striking out conversation' inspire to take action.
Link action to conversations to strategic goals.
Dragons Den trail blazers.
According to Catherine the story telling programme has led to a powerful shift in employee perception of leaders and has strongly engaged the business rather than just telling them.  Proving the success their Trail Blazer campaign has had over 845 ideas submitted.
In closing Catherine's advice to the group was "You need to put trust in the storytelling process.  Growth strategy will be delivered by colleagues who feel an emotional attachment to the business."