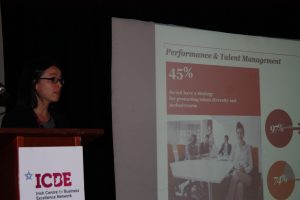 Sharing the results of research amongst HR leaders (PwC's HRD and CEO Pulse Surveys) Louise Shannon, Senior Manager, People and Organisation,  PwC, spoke about "Shaping Ireland's Future Talent Landscape – Views from HR Leaders and CEO's"
Some of the key issues and trends she identified include:
The lack of availability of key talent: This remains a key concern amongst Irish HRDs (77%), with the greatest shortages experienced in IT, data analytics, risk and finance. Similarly, our CEO Pulse survey shows that the lack of availability of key skills (81%) is a top business threat to growth.
Diverse workforce: While organisations are recognising the benefits of having a diverse workforce there is still significant room for progress – with almost half (45%) of Irish HR leaders confirming that they have no formal strategy in place to promote diversity and inclusiveness.
Performance management: While nearly all (97%)of organisations operate a formal performance management programme, the majority (75%) are changing their performance model to recognise the importance of having more frequent performance discussions.
Improving reward strategies: Almost half of the HRD survey respondents (46%) revealed that their reward strategy is not appropriately renumerating their best people. In addition, 96% are not tailoring their reward offerings to meet the different generational needs of their workforce. Recognising that one size does not fit all will be key to generating an engaged workforce across all generations and levels in the future.
Gaining insights from analytics: Almost 40% of HR leaders do not have analytics capability within their HR function. HR analytics (53%) and data analysis (38%) are noted as the areas with the largest skills gap. However, on a positive note, this skills deficiency may be in the process of being addressed as the majority of HR leaders (62%) plan to increase spending on HR technology in the coming 18 months.
Benchmarking for success: While a large majority of HR functions measure key HR benchmarks such as absenteeism and turnover rates, very few measure the return on people investment (13%) and HR function performance (5%). These are important areas requiring attention.
Deploying your people: With critical shortages in talent in specific markets and disciplines, employee mobility has moved up the organisational agenda. The critical need for companies to shore up skills in particular disciplines, regions and projects is changing attitudes to international assignments with short-term 'purpose-based' assignments becoming increasingly popular.
Background to PwC's 2017 HRD Pulse Survey
PwC's 2017 HRD Pulse Survey captures the thoughts and views of Ireland's HR leaders on the key challenges and opportunities facing HR functions, as well as upcoming priorities and trends. This survey was conducted in November 2016 and represents 67 HR leaders from all industry sectors in Ireland.
The 2016 CEO Pulse Survey reflects the views of over 250 local and multinational business leaders on key issues critical to Irish business. This survey was carried out in April/May 2016.